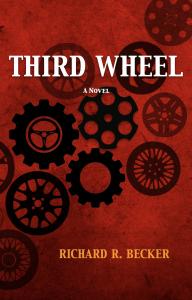 Third Wheel by Richard R. Becker
Richard R. Becker won four literary awards for his first book
Reviews call Third Wheel by Richard R. Becker brilliant, exhilarating, and mind-blowing.
A brilliant, mind-blowing debut novel that ends with a big surprise. Five stars!"
— Seattle Book Review
LAS VEGAS, NEVADA, UNITED STATES, August 18, 2023/EINPresswire.com/ — LAS VEGAS — Las Vegas author Richard R. Becker's coming-of-age novel, set in 1982 Las Vegas, is literary fiction about belonging, betrayal, and breaking away as told by 14-year-old Brady Wilks, a misguided Cleveland transplant trying to find his way in a town built by the Mob.
Although the novel is fiction, Becker channeled some of his experiences as a Milwaukee transplant struggling to fit in his new neighborhood and at home. Like the protagonist in his story, Becker's family also relocated to Las Vegas in the early 1980s.
"We landed in Las Vegas in January, which was awkward because kids in the sixth grade were bused to sixth grade centers in West Las Vegas," said Becker. "The school district gave up this practice in 1992-93, after families in West Las Vegas organized a boycott."
Initially, Becker befriended other outcast kids until a few fights found him seeking refuge with a tougher crowd. He said it's easier to fit in because the low bar of acceptance was passing around a bottle of alcohol.
Becker says some of those experiences helped him craft what reviewers are calling a masterful transformative character named Brady Wilks. Brady goes along to get along with his older next-door neighbor. But his plans to spend the summer partying and playing Dungeons & Dragons go awry when a low-level drug-dealing teen finds a foothold in their group.
Becker carefully balances a dark but nostalgic plot with the protagonist's youthful vulnerabilities: Brady falls for an older girl, navigates strained family situations, and tries to hang onto the last remnants of his childhood. All the while, his world hangs by a thread as he tries to make the right decisions.
Early reviews of his book are exceptional. More reviews will be out in the weeks ahead.
"Realistic characters and subplots [make] a vivid story that is as engaging as it is thought-provoking." — Readers' Favorite in its five-star review.
"Third Wheel by Richard R. Becker is an exhilarating story that portrays the struggles of a teenager to keep up with his friends." — OnlineBookclub
"A dark and skillful teenage crime novel with plenty of heart." — Kirkus Reviews
Third Wheel is Becker's debut novel, but not his first book. He began his literary career with a short story collection called 50 States. It broke into the top 100 literary short story collections on Amazon for three consecutive months. It also won first place in the ABR Book Excellence Awards, Spring 2022 BookFest Awards, 2023 Book Excellence Awards, and was a finalist in the IAN Book of the Year Awards.
Currently, Becker works as an accredited business communicator and president of Copywrite, Ink., a 30-year-old strategic communication and writing services firm. He also serves as a city council-appointed volunteer commissioner on the Las Vegas Parks and Recreation Advisory Commission and as a high school softball coach.
Becker has also worked as a copywriter, journalist, and creative strategist. He has received more than 200 local, regional, and national awards in his field, including Addys, EMAs, Pinnacles, and Quills for writing, creative, and strategic direction. He was also named WIC Agency Support Person of the Year (1997), IABC/Las Vegas Communicator of the Year (1998), Las Vegas Chamber of Commerce Community Achievement Award winner (1999), and WIC Agency/Production/Public Relations Principal of the Year (2001) before he was 35.
As a journalist, Becker has written hundreds of magazine and newspaper articles, with his byline appearing in the Denver Post, Los Angeles Times, and Simon & Schuster publications. He also contributed to five books, mostly related to writing, marketing, and public relations — subjects he taught at the University of Nevada, Las Vegas, between 2000 and 2020.
Third Wheel is available for purchase on Amazon.com and wherever books are sold.

An audiobook version, narrated by an Emmy-winning narrator and voice actor, is forthcoming. For more information about author Richard R. Becker, visit his biosite at bio.site/richardrbecker.com
Richard Becker
Copywrite, Ink.
+1 702-370-8111
email us here
First Book Trailer for Third Wheel
Originally published at https://www.einpresswire.com/article/650501177/award-winning-nevada-writer-releases-debut-coming-of-age-novel