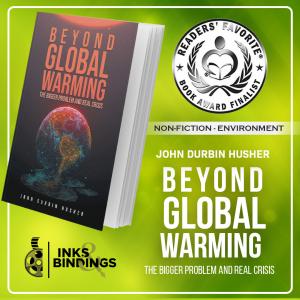 Beyond Global Warming by John Durbin Husher
By a River, On a Hill by John Durbin Husher
"Beyond Global Warming" and "By A River, On A Hill" elevate the competition within their respective categories
YORBA LINDA, CALIFORNIA, USA, September 12, 2023/EINPresswire.com/ — Readers' Favorite stands as the internet's most rapidly expanding platform for book reviews and award contests, providing a literary hub for independent authors. This year, they have hosted their annual Readers' Favorite Book Award Contest which gives authors the opportunity to get recognized for their written work. Among the competition's impressive lineup of 850+ winners and finalists, and the talented authors associated with Inks and Bindings, one notable individual stands out as a finalist in the non-fiction and poetry-general categories: John Durbin Husher.
"Beyond Global Warming: The Bigger Problem and Real Crisis" written by John Durbin Husher won as a finalist in the Non-Fiction Environment category. With global warming affecting millions worldwide and capturing the attention of scientists, policymakers, and concerned citizens alike, Husher argues that we are facing an even greater predicament than previously believed. This book is set to revolutionize the conversation about climate change and provide actionable solutions to safeguard our planet for future generations.
Another book of Husher titled, "By A River, On A Hill" is also a finalist in the Poetry-General category. This book chronicles the lives of twins born in a small steel mill town in Western Pennsylvania during the Great Depression. Its captivating narrative unfolds against the backdrop of the Depression's hardships, the turbulent World War II era, the construction of the iconic Golden Gate Bridge, and more, shedding light on the twins' divergent journeys toward success.
Being named a finalist in the Readers' Favorite Book Award comes with exceptional advantages and acknowledgment, and the Inks & Bindings team takes great pride in championing John Durbin Husher and enabling him to showcase his literary visions globally. Husher's triumph in this prestigious book award contest reinforces Inks and Bindings' unwavering dedication to delivering outstanding publications and nurturing literary talent.
Readers are invited to delve into"Beyond Global Warming: The Bigger Problem and Real Crisis" and "By A River, On A Hill" both conveniently accessible for purchase on Amazon and other prominent online bookstores. These titles not only offer an enjoyable reading experience but also offer valuable insights for readers to contemplate and gain knowledge from.
About Inks & Bindings:
Launching brilliant stars into the spotlight! Inks & Bindings is set to broaden horizons, revamp to perfection, and produce a masterpiece through the power of books.
Inks and Bindings is a premier self-publishing company located at the heart of the Golden State. Aptly based where fashion, entertainment, and culture thrive, the team goes all out in bringing independent authors into the sweet California spotlight.
JORELOU GABATO
Inks and Bindings, LLC
+1 714-249-5529
email us here
Visit us on social media:
Facebook
Twitter
Instagram
YouTube
TikTok
Other


Originally published at https://www.einpresswire.com/article/655372648/john-durbin-husher-s-books-recognized-as-finalists-in-2023-readers-favorite-book-awards